Published on
Wed, 02/16/2022 - 11:13
Liberty Insurance has partnered APRIL International to launch MyHEALTH International healthcare insurance to expatriates and Vietnamese nationals residing in Vietnam through their local Agency salesforce. After launching successfully with PTI 4 years ago, this makes MyHEALTH, APRIL's leading individual product, available through a complementary distribution channel.

This policy provides a comprehensive and fully flexible cover for medical expenses with assistance for the entire family regardless of their location. With flexibility as key, MyHEALTH customers are able to mix and match modules to suit their insurance needs ranging from basic and affordable, to comprehensive and elite plans.
According to statistics from the INSURANCE ASSOCIATION OF VIETNAM up until June 2021, health insurance recorded a revenue of 29.1%, up 6.19% over the same period last year. At the same time, Deloitte's Vietnamese consumer survey found that last year there is a 58% increase for household health care spending influenced by the COVID-19 situation. Based on these findings, Vietnamese people are shown to have an increased interest in health care, as well as protecting themselves and their families against the risks of accidents and illnesses.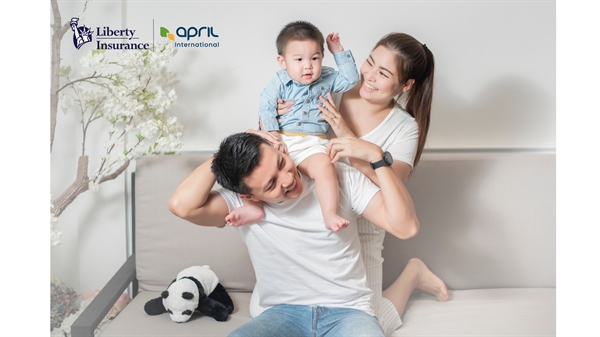 Recognising the need for reliable and inclusive health insurance protection, MyHEALTH international healthcare insurance plan was launched to meet this demand. MyHEALTH provides global healthcare coverage, comprehensive medical expenses coverage and emergency medical assistance for Vietnamese in the country and abroad, and foreigners living and working in Vietnam. Apart from having full flexibility to design your ideal plan, some of the key advantages of MyHEALTH are full coverage for hospitalisations, accidents, and outpatient surgery, full coverage for cancer, and worldwide emergency medical evacuation and repatriation.
According to Mr. David Ariff Chan, General Director and Head of Distribution of Liberty Insurance Vietnam,"We are excited and honoured to partner with APRIL International to launch MyHEALTH in Vietnam. The strong partnership between Liberty and APRIL International ensures that our customers receive the benefits of our combined international and regional experience and our financial strength"
With three flexible healthcare plans and attractive benefits up to VND 46.4 billion, MyHEALTH would be one of the most sought after international healthcare insurance plans in Vietnam by discerning customers who seek excellent coverage for themselves and their families.
For more information, visit:
https://www.libertyinsurance.com.vn/en/MyHEALTH