Published on
Wed, 06/07/2023 - 15:43
Liberty Insurance receives the fourth award from IDG for its innovative initiatives
Liberty Insurance Limited, a subsidiary of Liberty Mutual Insurance which is headquartered in the US, is proud to be honored for the 4th time with the Outstanding Financial Services Award by IDG Vietnam over 3 consecutive years (2021 - 2023). This year, the company was awarded the Non-Life Insurance Company with Outstanding Innovative Products and Services Award, acknowledging Liberty Insurance's efforts to continually provide innovative insurance products and customer-centric service offerings to customers, partners, and producers - including agents, auto dealers, brokers, and banks. The award is an addition to our latest accolade where Liberty Mutual Insurance was named in Fortune's 2023 list of America's Most Innovative Companies.
The award for Liberty Insurance was presented by the International Data Group (IDG) at the award ceremony of the Outstanding Banking Awards and the Outstanding Financial Services Awards in the Financial Services & Retail Banking Seminar 2023. This is a prestigious annual award organized by IDG Vietnam in collaboration with local associations to honor banks, fintech companies, and insurers in Vietnam with achievements in digital transformation, innovative products and services, and high efficiency, honoring the creativity and ability to effectively manage and operate Banking - Finance products and services of Vietnamese people. Since its inception 10 years ago, the Awards have received high respect and trust in the Banking - Finance community, honoring more than 20 typical products and services operating in Vietnam each year.
In recent years, Liberty Insurance has won the award for Liberty Car Insurance Comprehensive Package – Liberty AutoCare (2021), Non-life Insurance Company with the Highest Customers' Satisfaction on Digital Experience (2022), and the award of Non-life Insurance Company with Outstanding Innovative Products and Services (2022).
Liberty Mutual Insurance has been innovating products, services, and procedures to help clients and partners "embrace today, confidently pursue tomorrow." Liberty Insurance, inheriting the foundation and spirit of innovation, has been at the forefront of the digital transformation trend, pioneering applications in capturing the latest trends as well as the market's growing needs, thereby providing non-life insurance products with comprehensive protection benefits.
In 2010, Liberty Insurance was the first to offer insurance online, making it easier for customers to apply for coverage. Liberty was also the first insurer in Vietnam to offer a 100% online auto insurance transaction interface in 2020. In 2023, Liberty will continue to develop the system and refresh the website interface with the goal of providing users with comfort, friendliness, and the ease of discovering necessary information. Customers can now obtain an AutoCare (Comprehensive Auto Insurance) quote in just a minute, as well as enjoy overseas travel with the practical benefits of medical insurance and airline cancellation or delay compensation from TravelCare (international travel insurance) in just four steps directly on our website.
Liberty Insurance has continued to improve and expand its product offering by incorporating new trends such as cashless payment and online purchasing, engaging with partners such as e-wallets and e-commerce platforms. More Vietnamese clients will be able to obtain insurance products and full protection advantage through mobile applications.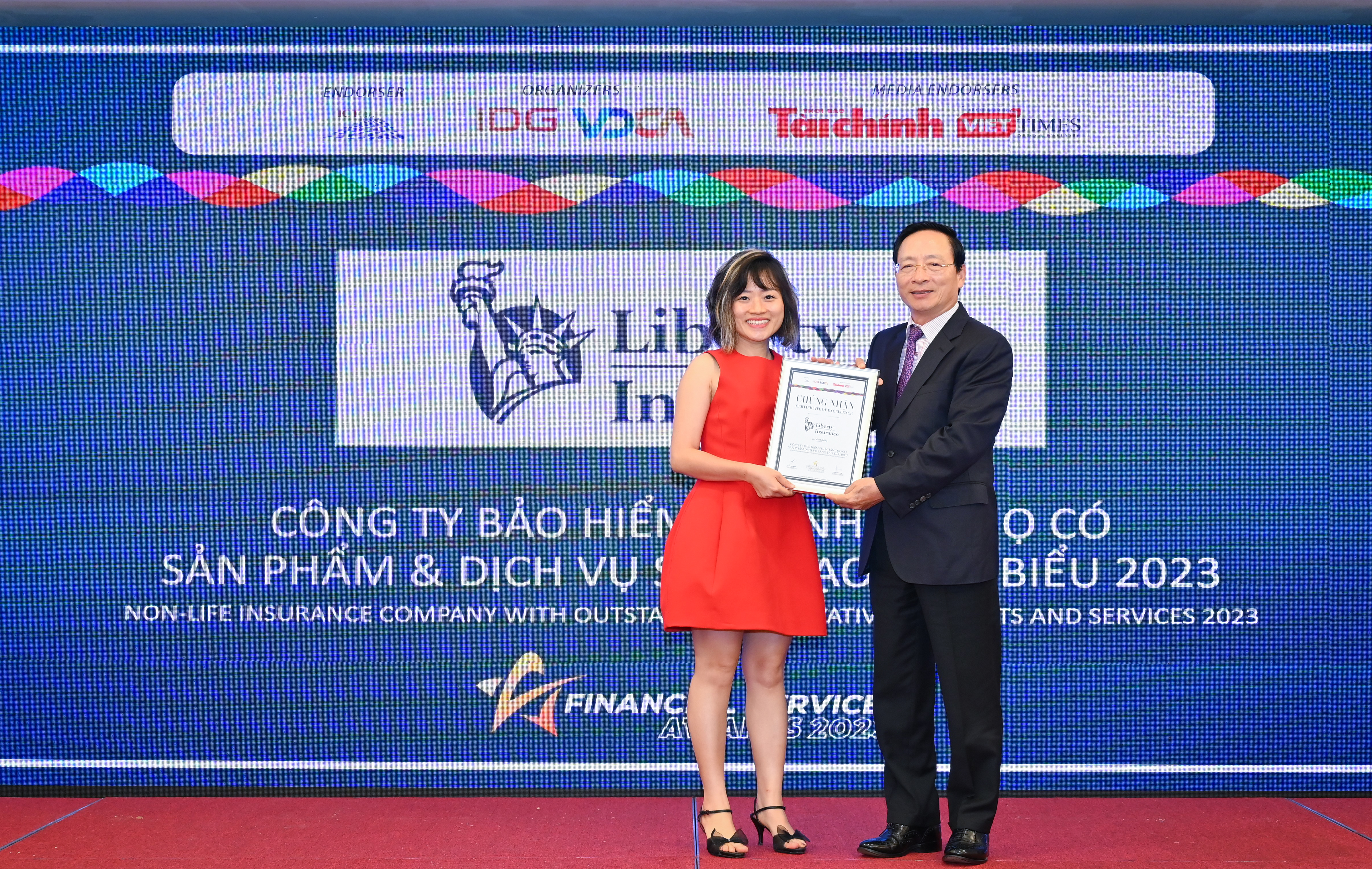 Ms. Nga Tran, head of Distribution at Liberty Insurance Ltd., received the award
"As a subsidiary of Liberty Mutual Insurance, the 5th largest property and casualty insurance company in the world (based on 2022 gross written premium), Liberty Insurance always keeps up to date with the latest trends and the application of advanced technology, so we are able to come up with effective approaches to best meet the increasing needs of customers and partners," said Ms. Nga Tran, Head of Distribution, Liberty Insurance Limited.
"We anticipate that our digital transformation activities will establish new norms in Vietnam's non-life insurance products and services. Winning our fourth award over 3 consecutive years in the IDG Awards is an affirmation of our commitment and contribution to non-life insurance. This is a challenge and a great motivation for the Liberty team to continue to improve the quality of products and services to provide the highest satisfaction for our customers."